Before setting out on my cross Canada trip, I purchased a Tesla CHAdeMO adapter. This was 100% an insurance policy. It was my first road trip in an electric vehicle and I wanted to make sure I had my bases covered. After a 9,000 km trip across the country, I can report that I did not get stranded or stuck once.
So, is the Tesla CHAdeMO adaptor worth it? In my opinion, yes and no. Here's why.
What is CHAdeMO?
Before we dive into if the Tesla CHadeMo adaptor is worth it, let's clear up what we are talking about.
CHAdeMO is short for "CHArge de MOve." This is a simple nod to the fact that it is a fast-charging method for electric vehicles. It was introduced as a standard by Japanese automakers in 2010. Today it's available in country's around the world with over 2,000 stations in the USA and over 400 in Canada. Current specs allow for up to 400 kW and put it in direct competition with Tesla Superchargers and Combined Charging System (CCS). That said, a Tesla CHAdeMO adaptor is limited to 50 kW which is a huge factor for those on the fence.
Where Are CHAdeMO Chargers Located?
CHAdeMO chargers are readily available in North America, Europe, and Asia. Thanks to local and federal government initiatives, CHAdeMO charging networks are vast.
CHAdeMO Chargers in Canada
In December of 2019, Petro Canada completed "Canada's Electric Highway." Utilizing its petrol fuel station locations, EV charging stalls were added at over 50 sites with both CHAdeMO and CCS/SAE connectors.
This means Tesla owners can easily drive from coast-to-coast without using a Supercharger if they have the Tesla CHAdeMO adaptor. Given that the Tesla CHAdeMO adaptor is currently limited to 50kW, it would be slower. Still, good to have the option.
Of course, there are more options for CHAdeMO chargers in Canada besides Petro-Canada stations. In British Columbia, BC Hydro has an extensive network of fast EV charger stations with CHadeMo options. Most of these are free of charge. This is definitely something to consider if you are wondering if a Tesla CHadeMo adaptor is worth it as many of these locations are off the main highways and cover the gaps where there are no Tesla Superchargers.
On the other side of the country, in Quebec, their extensive Electric Circuit network covers all corners of the province. This includes over 450 fast chargers with CHAdeMO options.
In between BC and Quebec, you will find plenty of CHAdeMO chargers dotted throughout via FLO.
CHAdeMO Chargers in The United States
In the United States, CHAdeMO has a slight edge on CSS stations with over 2,000 connectors coast-to-coast. There is an additional 200 chargers in the works and will be installed by EVgo and Nissan over the next year. This makes a Tesla CHAdeMO adaptor attractive in the USA, especially given that vehicle sale by adaptor type is heavily skewed Tesla with CHAdeMO taking second place.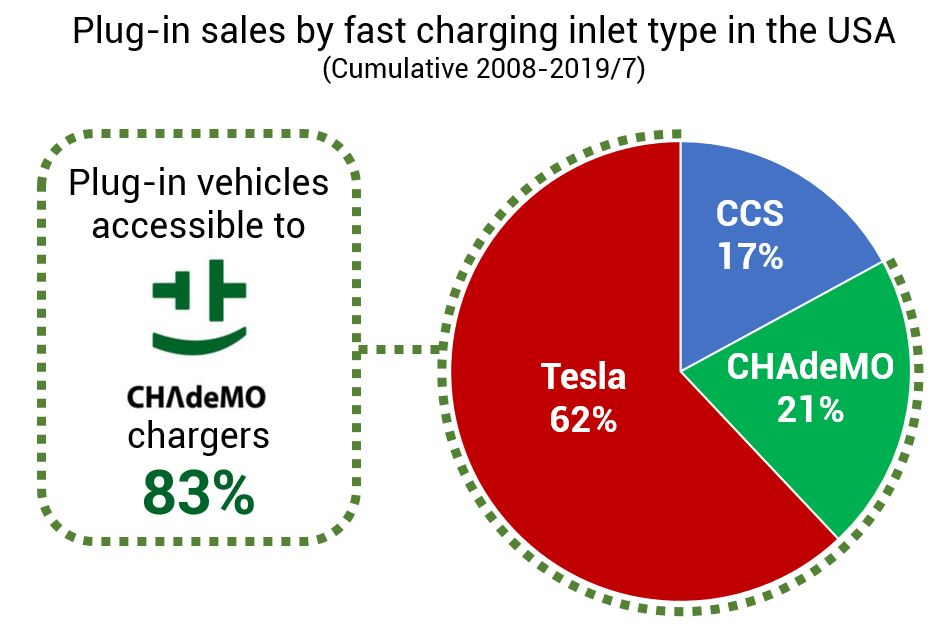 A quick look at Plugshare and you will see the entire country is blanketed CHAdeMO chargers. Similar to the Electric Highway in Canada, the West Coast Electric Highway connects a significant portion of the USA with CHAdeMO chargers. From British Columbia down the west coast all the way to San Diego you can find CHAdeMO charging stations
Interesting to note though, the amount of "actual" fast CHAdeMO chargers in the USA is significantly less. When filtering on PlugShare for 120 kW Minumum CHAdeMO chargers, the map gets pretty sparse.
CHAdeMO Chargers in Europe
The same can be said about Europe. The continent is very well served with 50 kW CHAdeMO chargers, however, is lacking when looking at 120 kW and above.
This is because Europe CSS and Tesla for fast-charging dominate the continent. Still, there are over 9,000 CHAdeMO chargers in Europe when including 50 kW stations. Many of these service areas are rural and remote.
Again, since the Tesla CHAdeMO adaptor is capped at 50 kW, this is a moot point. I flag it in the chance that if these adaptors get a boost there may not be many places where you can currently use them.
How Much Does a Tesla CHAdeMO Adaptor Cost?
The main reason people are wondering if a Tesla CHAdeMO adaptor is worth it is because of the price. At $400 USD ($530 CAD), it's not cheap.
Why it is so much, I am not sure. There are plenty of AC adaptors on the Tesla website for around $40. Granted the Tesla CHAdeMO adaptor is much bigger (possibly for DC to AC conversion), it's still just a lot of plastic and heavy gauge wires.
On the positive, Tesla just dropped the price from $600 CAD. There is speculation that a CSS1 adaptor is in the works. With speeds up to 350 kW, this would be a preferred adaptor however this has not been confirmed.
My Tesla CHAdeMO Adaptor Use
As mentioned, my decision to purchase a Tesla CHAdeMO adaptor was to ensure I had options, especially in areas where there are no Tesla supercharger stations. Particularly on the first leg of my cross Canada tour. After picking up my Tesla model Y I immediately hit the road and drove over 1,500 km around the Gaspe Peninsula, not charging at a Tesla Supercharger once.
Ironically, I could have gotten away without a Tesla CHAdeMO adaptor. As outlined in my post on going 1,500 km off the Tesla supercharger network, I only used a CHAdeMO charger once, and that was on the tail end of my leg and really just to try it out.
Turns out that if you plan accordingly, fast charging isn't really needed. I had a well-paced but enjoyable five days around the peninsula. Every night I was charging at a hotel so there was no real need to fast charge along the way. The remainder of the trip was much of the same.
I used it once in Kingston, Ontario although I didn't really need to. It was a quick stop to grab a coffee and the station was there so I topped up. I didn't use it again until Abbotsford BC, less than an hours drive from my home. That was at the Petro Canada station and the experience was not great. I had trouble getting the app working and the 50 kW speeds were tough to take after using Superchargers for the bulk of my trip.
2021 UPDATE
After driving across the country last year and only using the adaptor a couple of times, I have now done trips where I used a CHAdeMO adaptor exclusively. So, depending on where you want to go, a Tesla CHAdeMO adaptor is 100% worth it.
So is the Tesla CHAdeMO Adaptor worth it?
After 9,000 km of use, I have taken out my Tesla CHAdeMO adaptor a grand total of three times. Of these three times, I had other options. So the Tesla CHAdeMO adaptor might not be worth it for me. With Tesla expanding its Supercharger network, the need for adaptors will become less and less.
That said, I do plan to use it throughout BC next summer so the verdict still isn't in for me. Still, for the bulk of Tesla owners, with a little planning, you should be able to easily get by without one. If you are in a rush or in an area that doesn't have a Tesla supercharger and CHAdeMO is an option then it certainly makes more sense for you.
If you are still on the fence on if a Tesla CHAdeMO adaptor is worth it, consider renting one. I will be offering mine for use through my site shortly and many local Tesla groups have members doing the same. It's a good way to try it out and see if it is something that works for you without committing the cash.
READ MORE: